Researcher Spotlight: Ayushi Chauhan, MD
AUGUSTA UNIVERSITY RESEARCH INSTITUTE, INC.
Stephanie A. Gregory Distinguished Scholar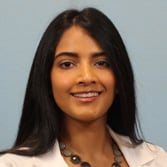 Primary central nervous system lymphoma, or PCNSL, is a rare and aggressive form of non-Hodgkin lymphoma that predominantly affects older adults over the age of 60 years. Standard frontline treatment for PCNSL consists of high-dose methotrexate-based chemotherapy followed by a second course of intensified chemotherapy and bone marrow transplant. Relapse after this course of treatment is common, though, and treatment options for patients with relapsed or refractory disease are limited. Dr. Chauhan's LRF research project aims to determine whether the oral medication zanubrutinib can be used to effectively treat this patient population. "This is a drug that inhibits a protein called Bruton's tyrosine kinase and blocks a signaling pathway that is important for lymphoma cell survival," explains Dr. Chauhan. She hopes that her research will help achieve better response rates for patients with PCNSL in the relapsed/ refractory setting.
Dr. Chauhan was inspired to a career in medicine from an early age. "My parents are both physicians serving tribal and rural populations in India," she says. "Since a young age, they have been engaged in and have encouraged my siblings and me in donating our time, effort, and finances to help the under-privileged." As she looks ahead to the future, she is similarly inspired by work that serves patients who have historically been excluded from lymphoma research. "I think the recent pushes toward expanding clinical trial eligibility for elderly and underserved patients, as well as the move to make trials more diverse and inclusive, is what gives me the most hope for the future," she says. "Novel therapies whether targeted or cellular have changed the landscape of indolent and aggressive lymphomas. However, unless we make trials generalizable and widely accessible, these gains remain out of reach for the patients who need it the most."
Dr. Chauhan earned her medical degree from Maulana Azad Medical College in New Delhi, India. She completed her fellowship in Hematology and Oncology at MedStar Georgetown University Hospital in Washington D.C and a lymphoma rotatorship at the National Cancer Institute in Bethesda, MD. She now serves as an Assistant Professor in the Division of Hematology-Oncology at Georgia Cancer Center in Augusta, GA. She hopes to leverage her experiences as a Clinical Research LRF Scholar to establish herself as an independent clinical lymphoma researcher, with the hope of catering her research to the underserved populations of Georgia.