Researcher Spotlight: Suchitra Sundaram, MD
Roswell Park Cancer Institute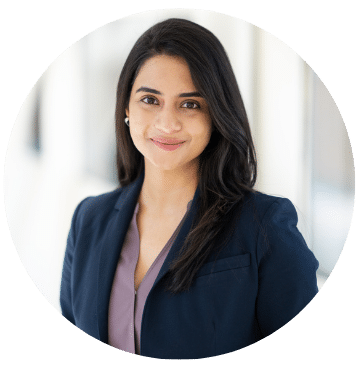 Over the past several years, targeted therapy with small molecule inhibitors and antibodies has replaced
chemotherapy as the standard treatment for patients with chronic lymphocytic leukemia (CLL). Despite these significant advances, CLL remains incurable for a majority of patients. While most patients enjoy long-lasting
remissions with existing novel therapies, it is becoming apparent that a subset of those (especially those with high-risk CLL genetics) eventually develop resistance to these treatments and have relapsed disease. Thus, new treatment strategies that target pathways of resistance are needed.
As her LRF research project, Dr. Suchitra Sundaram proposes a clinical trial to test this BRD4 inhibitor in combination with venetoclax (Venclexta) in patients with CLL who have relapsed or are refractory to previous treatments. "By combating drug resistance, our hope with this clinical trial is for patients to have longer remissions, translating into fewer relapses," she says. Dr. Sundaram began her medical career at the Lockmanya Tilak Medical College in Mumbai, India. She went on to intern and complete her residency at the Cleveland Clinic Foundation. Dr. Sundaram is an Assistant Professor of Medicine (Hematology and Medical Oncology) at the Tisch Center Institute at the Ichan School of Medicine at Mount Sinai Hospital. Prior to joining Mount Sinai, she was an Assistant Professor in the Division of Lymphoma and CLL at Roswell Park Cancer Institute.
In ten years' time, Dr. Sundaram would like to become a clinical investigator. "I hope to further the existing scientific knowledge of lymphoma and continue developing novel targeted treatments and immunotherapeutic strategies for patients with lymphoma and CLL," she states. She would also like to collaborate with philanthropists and scientists in her home country, India, to improve accessibility to novel drugs for lymphoma and CLL. "The LSRMP has provided me with excellent mentorship and feedback in transforming my research protocol into a feasible study. The LSRMP workshop also gave me some valuable tips on career development and extensive networking opportunities with other early-career scientists."
The post Suchitra Sundaram, MD appeared first on Lymphoma Research Foundation.