Researcher Spotlight: Erin Mulvey, MD
Weill Cornell Medical College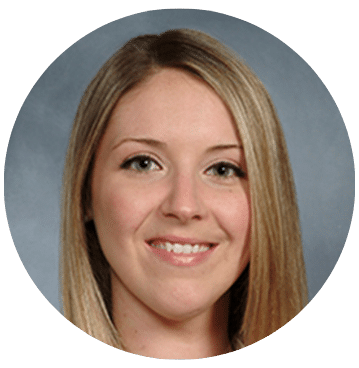 Diffuse large B-cell lymphoma (DLBCL) and follicular
lymphoma (FL) are the two most common types of non-Hodgkin lymphoma, with one categorized as aggressive (fast-growing) and one considered indolent (slow-growing), respectively.
First-line treatment for DLBCL would yields remission in
most patients and patients with FL can live for many years
with the disease. However, FL remains incurable, and both present an unmet need for second-line treatment. For her LRF research project, Dr. Erin Mulvey is conducting a phase I clinical trial combining two oral agents, tazemetostat (Tazverik) and venetoclax (Venclexta), to treat patients with FL or patients with DLBCL whose disease has returned or progressed after at least one prior treatment. "Our primary goal will be to demonstrate that these two agents are safe and well-tolerated by patients when given together," she says.
Dr. Mulvey's first research experience was working as a research assistant in a cancer immunology laboratory studying the effects of chemokine receptor and ligand disruption in preclinical cancer models. This sparked her interest in cancer immunology during her medical training at New York Medical College. As a medicine resident at Weill Cornell Medicine, she independently conducted a retrospective review of central nervous system (CNS) prophylaxis in DLBCL and had the opportunity to present her research at the 59th American Society of Hematology (ASH) Annual Meeting. As a clinical fellow in hematology
and medical oncology at Weill Cornell Medicine, Dr. Mulvey continues to advance her involvement in lymphoma research and will be pursuing a career in clinical research.
In ten years time, Dr. Mulvey would like to continue her involvement with lymphoma clinical research issues. "I would like to continue to work closely with translational researchers to build rationally-designed protocols that exploit the diverse biology underlying lymphoma," she says. "I will also strive to carefully consider the impact these treatments will have on patients' lives and plan to include patient-reported outcomes in my research endeavors."
The post Erin Mulvey, MD appeared first on Lymphoma Research Foundation.