National Cancer Institute (NCI) Director Norman "Ned" Sharpless, MD, is slated to step in as interim chief of the US Food and Drug Administration (FDA) in early April, as the Trump administration searches for a permanent replacement for Scott Gottlieb, MD.
Health and Human Services Secretary Alex Azar on Tuesday announced the personnel changes. Gottlieb earlier this month announced his plan to leave the FDA, citing a desire to spend more time with his wife and young children in their Connecticut home.
Douglas Lowy, MD, currently deputy director of the NCI, will serve as acting director during the absence of Sharpless, Azar said.
Azar said he expects Sharpless to continue with efforts for which Gottlieb has been widely praised.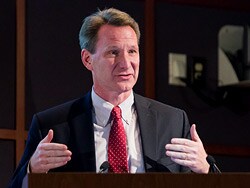 "There will be no let-up in the agency's focus, from ongoing efforts on drug approvals and combating the opioid crisis to modernizing food safety and addressing the rapid rise in youth use of e-cigarettes," Azar said in a statement.
The US surgeon general last year declared e-cigarette use among youth an "epidemic." As previously reported by Medscape, in 2018, 21% of 12th graders vaped nicotine during the past 30 days, double the rate in 2017, as indicated in the 2018 Monitoring the Future survey.
"Exceptional Perspective"
Lisa Lacasse, president of the American Cancer Society Cancer Action Network, said it is "vital" that Sharpless work during his time at the FDA to curtail "soaring rates of youth tobacco use, especially e-cigarettes."
In a statement, Lacasse also called on Sharpless to use his "exceptional perspective and experience in cancer research" in the FDA's continued efforts to prioritize the review of new therapies.
From an internal message to FDA staff that the agency provided to Medscape Medical News, Gottlieb said Sharpless should expect a warm welcome. "Some of you already know him well," Gottlieb wrote to FDA colleagues. "In fact, he plays on a weekly basketball team with some of our medical review staff."
Before becoming NCI director in 2017, Sharpless served as the director of the University of North Carolina Lineberger Comprehensive Cancer Center, in Chapel Hill. According to his official NCI biography, Sharpless contributed "to the understanding of the relationship between aging and cancer, and in the preclinical development of novel therapeutics for melanoma, lung cancer, and breast cancer."
Sharpless has spoken about growing "optimism" in the field of oncology. In a speech before the 2018 meeting of the American Society of Clinical Oncology (ASCO), Sharpless said the "potential for breakthroughs has never been greater than it is right now."
Physicians now may convey a sense of optimism to patients and to the rest of the world, according to Sharpless. In his ASCO speech, as reported by Medscape Medical News, Sharpless used the word "cure" ― a word that most oncologists go to great lengths to avoid.
"An almost overarching worry of the cancer doctor today has become the management of expectations: We don't want to overpromise and give people — especially patients — false hope," Sharpless said.
"But I am worried we have been losing the point," he continued. "I think we have become scared to tell our patients that we hope to cure them, and it may be time to reexamine how we communicate our efforts in this area."